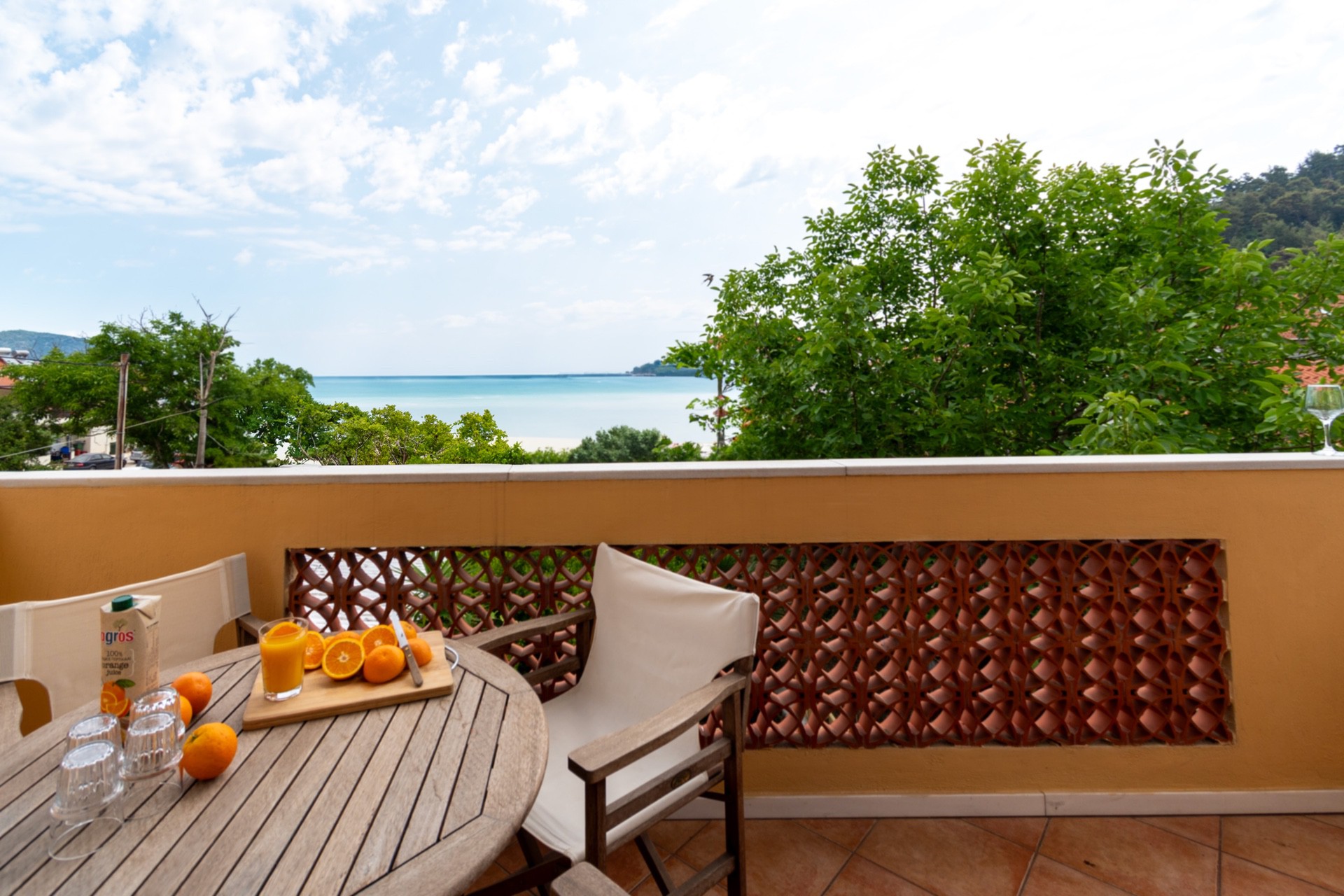 Tucked in the heart of Skala Potamias, Kastrinos Guest House beckons travelers seeking the quintessential Greek experience. Combining affordability with the comforts of home, we ensure your stay is nothing short of memorable.

Situated a mere 70 meters from Thassos' pristine Skala Potamias beach, our maisonette promises breathtaking sunrises over the Aegean Sea. And as day turns to evening, step onto our balconies for panoramic views of the rolling mountains—offering the best of Greece's diverse landscapes.

Experience a unique holiday home in Thassos at Kastrinos Guest House. Our maisonette stay in Thassos offers six-person accommodation with beach proximity and a cozy fireplace. Book now for the ultimate vacation retreat!
Home-Ready Kitchen: Whether you're keen on crafting a traditional Greek dish or a simple snack, our fully-equipped kitchen is at your disposal.
Stay Comfortable: With air conditioning and heating, every moment of your stay is set to your preference.
A Garden Affair: Our verdant garden is primed for BBQs, sun-soaked relaxation, or moments of reflection beneath the Greek sky.
Easy Parking: Our private parking ensures every excursion begins and ends with ease.
Fresh and Ready: Our handy washing machine ensures you're always dressed for the next adventure.
Readers' Retreat: Delve into our collection of over 30 titles. Whether fiction or travel guide, find a companion in our curated bookshelf.
10% Discount at Thomai Bistro
As you navigate through our gallery, let the images transport you to Thassos, offering a hint of the unforgettable experiences that await at Kastrinos Guest House. Enjoy the tour!
Minimum Stay 3 Nights
Check-In: From 15:00
Check-Out: Up to 11:00
Reception Hours: 08:00 - 14:00
Payment: Due on arrival
For any additional inquiries, do not hesitate to contact us.
Free cancellation up to 30 days before arrival.
If cancelled within 30 days of arrival, 1/3 of the total price will be charged.
In the event of a no-show, the total reservation price will be charged.
A prepayment of 1/3 of the total price is required post-reservation via Bank Transfer.

At Pansion Thomai, we're committed to making your stay as seamless and memorable as possible. Start your journey with us today!
REQUEST TO STAY
AT KASTRINOS GUEST HOUSE
Tel. +30 2593061102
Tel. +30 2593061964
Mail. kastrinosv@gmail.com
Thassos, GR
Saturday, September 30, 2023
14°C
Wind: 2 mph
Sunrise: 07:16
Sunset: 19:06
Explore PANSION THOMAI ROOMS
Book Your Thassos Adventure Today
Offering unbeatable value without sacrificing comfort, Kastrinos Guest House is your choice destination for a genuine Thassos experience.