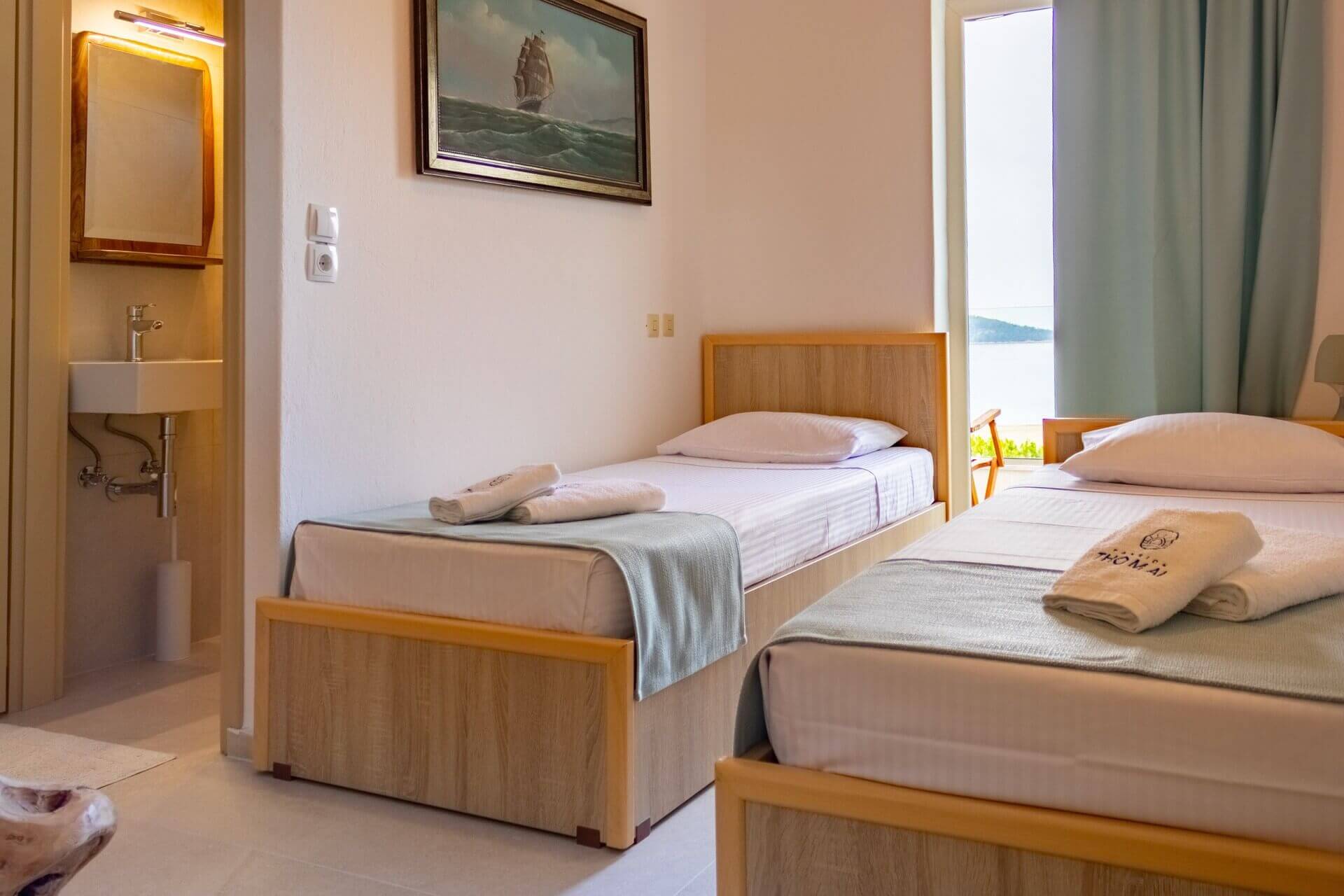 Delight in the simplicity and comfort of the Twin Room at Pansion Thomai, your budget-friendly base for exploring the beautiful Thassos Island. With two single beds and an array of amenities, this room is ideal for friends, siblings, or solo travelers who appreciate their own space.

Each Twin Room comes equipped with two comfortable single beds, promising a good night's sleep in preparation for another day of island exploration. Relax in your private haven after a day under the Thassos sun, and wake up refreshed, ready for a new day of experiences.
We've ensured that our Twin Room is well-equipped to meet your needs. With a private bathroom, refrigerator, air conditioning, and television, you'll find everything you need for a comfortable stay on Thassos Island.
10% Discount at Thomai Bistro
Explore our Twin Room through this vibrant gallery, showcasing every aspect of your upcoming stay at Pansion Thomai.
Check-In: From 15:00
Check-Out: Up to 11:00
Reception Hours: 08:00 - 14:00
Payment: Due on arrival
For any additional inquiries, do not hesitate to contact us.
Free cancellation up to 30 days before arrival.
If cancelled within 30 days of arrival, 1/3 of the total price will be charged.
In the event of a no-show, the total reservation price will be charged.
A prepayment of 1/3 of the total price is required post-reservation via Bank Transfer.

At Pansion Thomai, we're committed to making your stay as seamless and memorable as possible. Start your journey with us today!
REQUEST TO STAY AT PANSION THOMAI
Tel. +30 2593061102
Tel. +30 2593061964
Mail. kastrinosv@gmail.com
Thassos, GR
Saturday, September 30, 2023
13°C
Wind: 0 mph
Sunrise: 07:16
Sunset: 19:06
Book Your Thassos Adventure Today
Ready for a memorable Thassos experience?