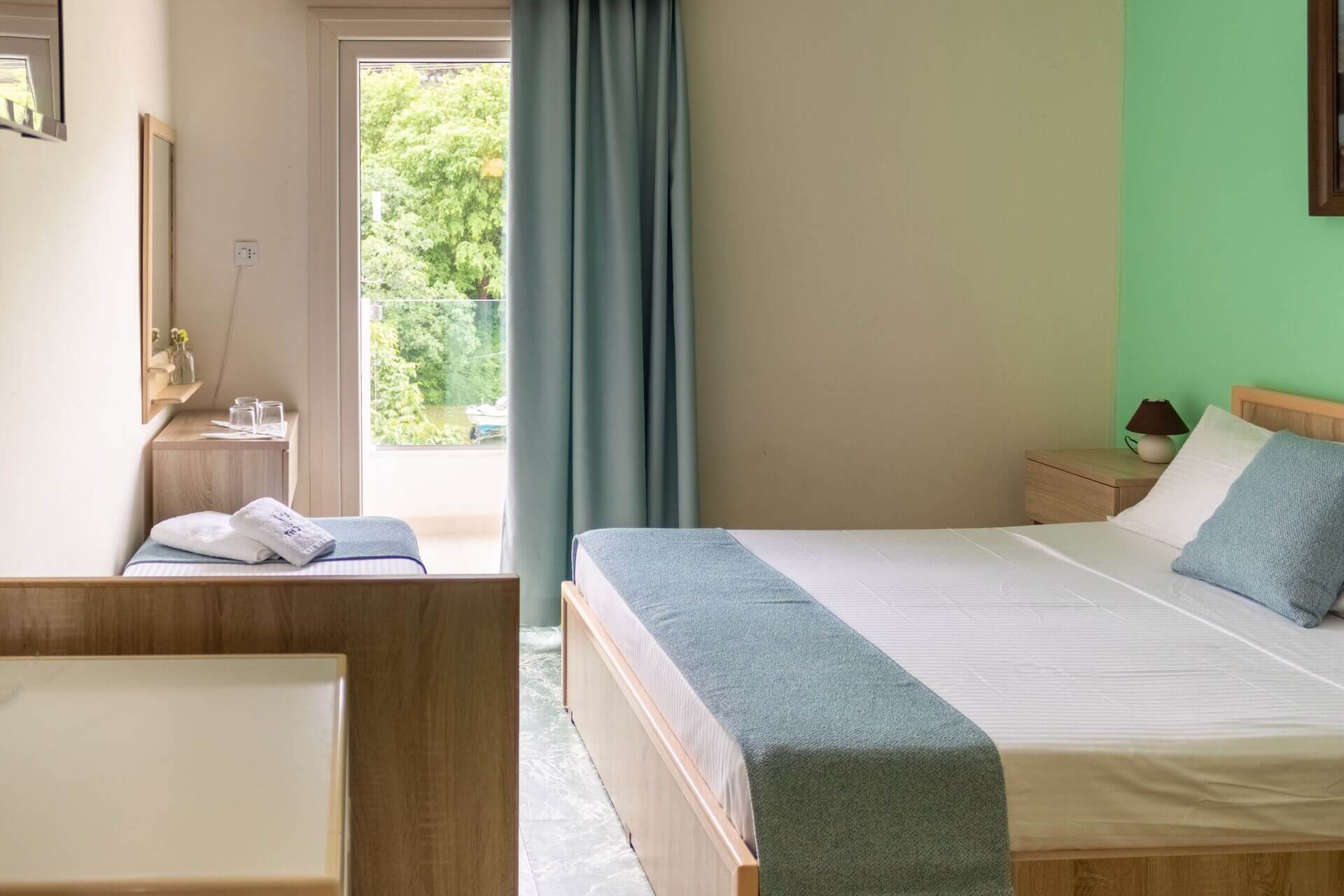 Welcome to the Triple Room at Pansion Thomai, where affordability meets comfort and convenience. This room, featuring three comfortable beds and peaceful mountain views, is perfect for small families or groups looking to explore the picturesque Thassos Island.

Triple Room promises tranquility and comfort. Sleep well in our cozy beds and wake up refreshed, ready to take on another exciting day of island exploration.
We've outfitted theTriple Room with all the essentials to ensure a relaxing stay. With a private bathroom, refrigerator, air conditioning, and television at your disposal, you'll find everything you need for an enjoyable stay.
10% Discount at Thomai Bistro
Preview the comfortable sleeping arrangements, convenient room amenities, and the calming mountain views from the private balcony.
Check-In: From 15:00
Check-Out: Up to 11:00
Reception Hours: 08:00 - 14:00
Payment: Due on arrival
For any additional inquiries, do not hesitate to contact us.
Free cancellation up to 30 days before arrival.
If cancelled within 30 days of arrival, 1/3 of the total price will be charged.
In the event of a no-show, the total reservation price will be charged.
A prepayment of 1/3 of the total price is required post-reservation via Bank Transfer.

At Pansion Thomai, we're committed to making your stay as seamless and memorable as possible. Start your journey with us today!
REQUEST TO STAY AT PANSION THOMAI
Tel. +30 2593061102
Tel. +30 2593061964
Mail. kastrinosv@gmail.com
Thassos, GR
Saturday, September 30, 2023
13°C
Wind: 0 mph
Sunrise: 07:16
Sunset: 19:06
Book Your Thassos Getaway Today
Are you ready for a memorable stay on Thassos Island?